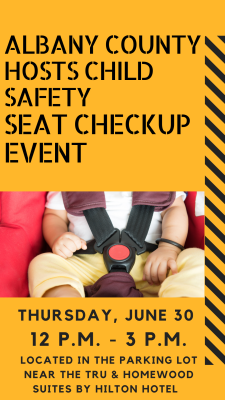 Albany County Hosts Annual Child Safety
Seat Checkup Event
When child safety seats are not installed correctly, they can cause serious injuries, even death, for young children involved in traffic accidents. That's why it's extremely important that you have your safety seat checked to make sure that your child is secure. The Albany County Traffic Safety Program has been hosting free events for over 20 years to help parents and caregivers protect their kids in motor vehicles. Over the years, we've found hundreds of seats improperly installed. Hosting these events ensures that children are properly protected as we replace expired, damaged, or recalled car seats or seats that are inappropriate for use by a child.  
The free child safety seat checkup event will be held on Thursday, June 30 from 12 p.m. – 3 p.m. at the Crossgates Mall Overflow Parking Lot adjacent to the Homewood Suites by Hilton Albany Crossgates Mall.