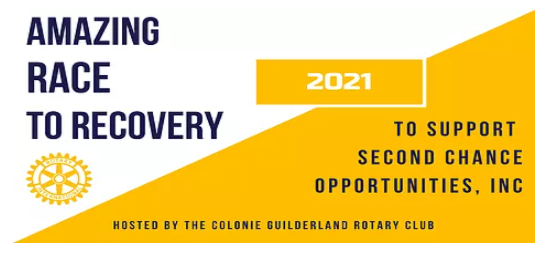 The Colonie-Guiderland Rotary Club is looking for your help in fighting the current addiction and opioid crisis in the Capital District. Our 3rd annual fundraising event will promote awareness of the issue and raise funds to support Second Chance Opportunities, Inc. and their community recovery center in Albany.
AMAZING RACE TO RECOVERY 2021 will be held virtually from February 13-21, 2021
Have some fun completing team challenges over 8 days!  There are currently 28 challenges to choose from, including:
Zoom Jeopardy
Build a Snowman Bingo
Scavenger Hunt
Learn A Dance
Unscramble Words
Identify Oddball Objects
Telephone Game
How Well Do You Know Your Teammates?
Kahoot Trivia
Typing Challenge
Zoom Pictionary
Healthy Recipe
Build a Towel Animal
Make a Necklace
Fly a Paper Airplane
Funds raised from this event will be used to support programs at the  Community Recovery Center, a safe and centralized location in the heart of Albany where people with an addiction, their families and loved ones can come to get support, direction and guidance while they are dealing with substance abuse disorders.
A space where people in recovery can come and put the pieces of their life back together by; gaining employment, housing and life skills, being part of the recovery community, and learning to have fun and enjoy themselves without the use of substances, which greatly reduces the risk of relapse.
​The event will be modeled after the popular CBS show The Amazing Race. Teams consist of between 1-5 people. The cost is $20 per person. CLICK HERE to sign up today!
If you are in recovery, inquire about being sponsored to participate. Your team will earn points for completing fun challenges. They may be via Zoom, online, text, phone, etc.