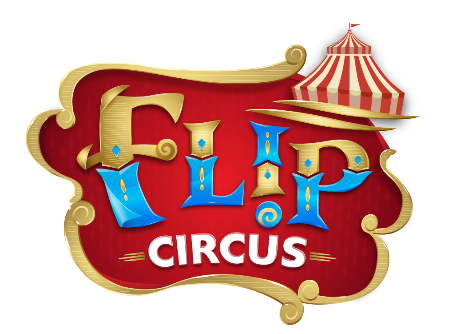 FOR IMMEDIATE RELEASE:
September 29, 2023
First time ever in Albany!
FL!P Circus Brings 2023 National Tour Featuring World-Class Talent And Big Top Family Fun to Crossgates
September 29 – October 9
Guilderland, NY – FL!P Circus (www.FlipCircus.com) the great American big top experience that has been wowing audiences across the country, brings its brand new 2023 tour to Albany starting today. The all-new production, created by the Vazquez family, features an incredible assemblage of international acts that are guaranteed to amaze and amuse. The show starts today at Crossgates and has daily shows from September 29 – October 9. Tickets are on sale now.
This high-energy show takes place under a distinctive red and white, 800-seat, climate-controlled big top tent with no seat more than 50-feet from the ring. The front row is so close that those sitting there often find themselves being brought into the ring to be part of the fun!
There is nothing quite like live entertainment, and Fl!p Circus celebrates the great American circus tradition that has brought families and friends together to celebrate life and create fun, lasting memories for over 200 years. Audiences are invited to leave their cares behind and enter a world where the laughs are plentiful and the wows only stop when the show ends.
Ringmaster Arthur Figueroa serves as host of this new circus adventure. Audience favorites, Stiv and Roni Bello – Italy's "siblings of silliness" – return to weave their outrageous comedic antics throughout the show, which features a new international cast of circus stars. Carolina Vazquez from Mexico gracefully performs high above the audience on a single trapeze while Columbia's Duo Vanegas defy gravity, their own safety, and your expectations on the rotating Wheel of Steel.  The magnificent Bello Sisters from Italy, who amazed audiences on America's Got Talent, dazzle with their incredible body-bending, handstand skills. From the United States, the Super Tumblers present a fast-paced display of agile acrobatic dexterity. Direct from Ukraine, the Bingo Troupe presents a high-energy display of dance, acrobatics and unicycle that will fill the tent with their boundless exuberance. The entire production moves to the beat of the live FL!P Circus Band which provides the soundtrack to all the fun. Be sure to Fl!p your circus experience at this unforgettable live entertainment event you won't want to miss!
Show times are 7:30pm on weekdays and 1:00pm, 4:00pm and 7:00pm on Saturdays and Sundays. For discounted tickets and additional information, please visit www.FlipCircus.com. Tickets will also be available in person at the box office during each engagement.
###
About Crossgates:
Crossgates is the Capital Region's premier shopping, dining and entertainment destination offering an impressive selection of national brands and the newest retail concepts.  The center is anchored by Macy's, JCPenney, Dick's Sporting Goods, and Best Buy, while offering more than 180 retail shops, including Apple.  Crossgates offers 10 entertainment venues and over 20 on-site eateries, such as Dave & Buster's, Get Air, Billy Beez, Apex Entertainment, The Standard Restaurant & Lounge, Maggie McFly's and Regal Cinemas with IMAX. Or simply relax at our award-winning day spa, Spa Mirbeau. Located adjacent to a dual-branded 192-room Homewood Suites and Tru by Hilton hotel, Crossgates is your destination to EAT. SHOP. PLAY. STAY.  Additional information regarding Crossgates can be found at shopcrossgates.com, Facebook, Instagram, and Twitter.
About Pyramid Management Group, LLC:
Pyramid Management Group, owner of Crossgates, is one of the largest, most innovative, privately-held real estate developers in the northeast. Headquartered in Syracuse, New York, Pyramid's portfolio of dynamic shopping, dining and entertainment destinations and expanding hospitality presence dominates the northeast with 14 properties located throughout New York and Massachusetts. For nearly 50 years, Pyramid has built its reputation on being first, fast, ahead of the curve and always what's next, leading the industry in combining the best elements of traditional retail with world-class dining and entertainment, all under one roof. For more information, visit www.pyramidmg.com.