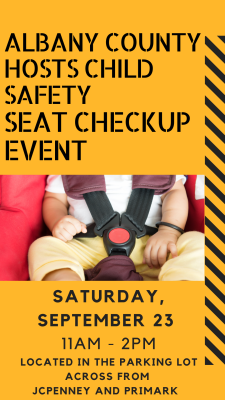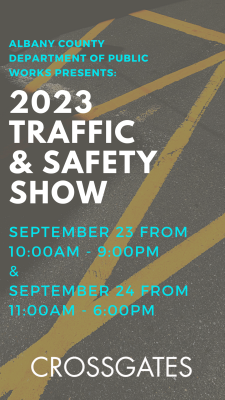 County Executive McCoy Announces 39th Annual Traffic Safety Awareness Show & Car Seat Check
Guilderland, NY: Wearing a seat belt can save your life and prevent injuries. That's a fact but there are still people who don't buckle up. Albany County Executive Daniel P. McCoy and Crossgates Mall are once again hosting the Albany County Traffic Safety Awareness Show & Car Seat Check on Saturday, September 23 and Sunday, September 24, 2023.
"We continue to find car seats that are not installed properly, need to be replaced or that have been recalled," said County Executive McCoy. "This is an opportunity for parents to get their seats inspected to protect their most precious cargo. I am happy we continue to offer this vital opportunity to keep our children safe. It's also a great reminder that everyone in the car needs to buckled up. It's the law and wearing seat belts saves lives."
The 39th Annual Traffic Safety Awareness Show will be held during regular mall hours on the lower level near the Apple Store and Burlington. The car seat checkup event commemorating National Seat Check Saturday will be held in the overflow parking lot next to Washington Ave. Ext. September 23, 11 am – 2 pm.
Over the weekend, participants will be educated on the dangers that exist on the road and best practices for traffic and child passenger safety. Both events are free and sponsored by The Albany County Department of Public Works Traffic Safety Program.