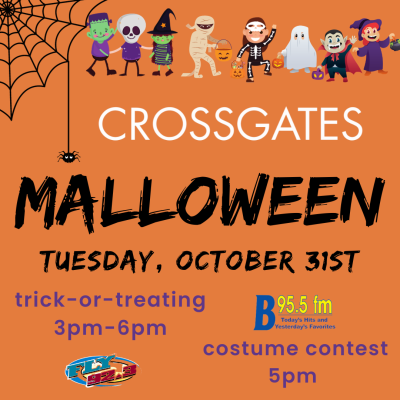 It's time to get SPOOKY with the return of Malloween at Crossgates! Halloween is one spook-tacular sight with ghosts, goblins and ghouls running through the night. Crossgates MALLOWEEN, along with our media partners B95.5 and Fly 92.3, will be one haunting good time, welcoming families, children and costumes of all kinds. While you are here, make sure to visit each cauldron throughout the mall and at various stores for a trick or a treat. Grab a map of all of the fun booths to visit throughout the mall, sign up for the mysterious costume contest on the lower level by APEX Entertainment and don't forget to look your best…..or your creepiest. The Malloween event will take place entirely inside Crossgates on Tuesday, October 31st from 3:00pm – 6:00pm.
Join us for the 27th annual costume contest, hosted by B95.5 and Fly 92.3. Registration is open from 3pm-4:30pm ONLY on the lower level near APEX Entertainment. A $50 Gift Card to an age-appropriate store and a prize pack will be awarded to the cutest, the scariest and the most original costume in each age group. Back by popular demand, one lucky family will be awarded $250 in gift cards to Crossgates stores and a prize pack for the best family theme costume category. We are excited and honored to have "celebrity judges" from within the Town of Guilderland join us to help judge the costume contest.
Parents, no reason to scream this Halloween! The candy and various treats from Crossgates are distributed directly from manufacturer's cartons to your child's bag. Candy tables will be located within the main areas of the mall and at participating stores throughout. Just look for the "We Have Candy" Pumpkin Sign posted in their window. It's a great way for safe trick-or-treating, to escape bad weather and still enjoy the holiday with your child.
In addition to trick or treating, stop by the Capital Photo booth and get your free photo to capture your 2023 Malloween memory! Photos will be available to the first 100 families that visit. And be sure to check out Music Company Orchestra who will be performing from 3pm-5pm….it's sure to be a spooky, fun time!