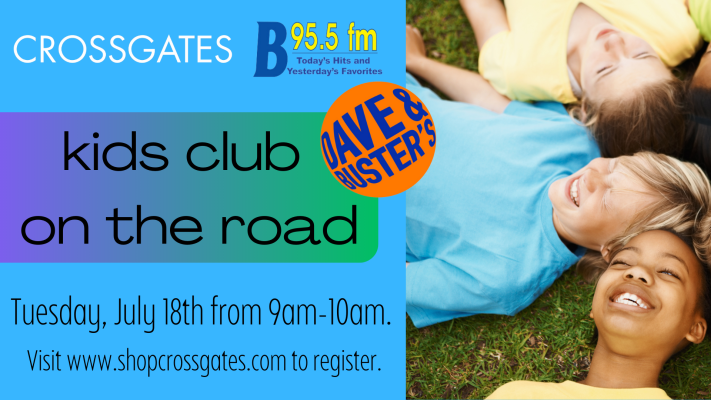 Crossgates is excited to host our second Kids Club on the Road series this summer!
This Kids Club on the Road event will take place Tuesday, July 18th from 9:00AM – 10:00AM at Dave & Buster's!
Each KID will receive an unlimited power card for the hour-long event while they are at the venue.
In addition, the Kids Club on the Road discount card given away at registration offers you the ability to receive
great savings at select Crossgates merchants all day long on Tuesday, July 18th….so be sure to make a day of it!
Space is limited and a spot must be reserved in advance for this Kids Club event.
Click here for more details on how to register.
Kids Club on the Road events will take place at venues such as Get Air, Dave & Buster's,
APEX Entertainment and Albany Ninja Lab and will feature fun with B95.5 & other local community partners!
Crossgates, along with B95.5, is so excited to welcome you back to Kids Club on the Road at Crossgates. Let's
make it a summer to remember!