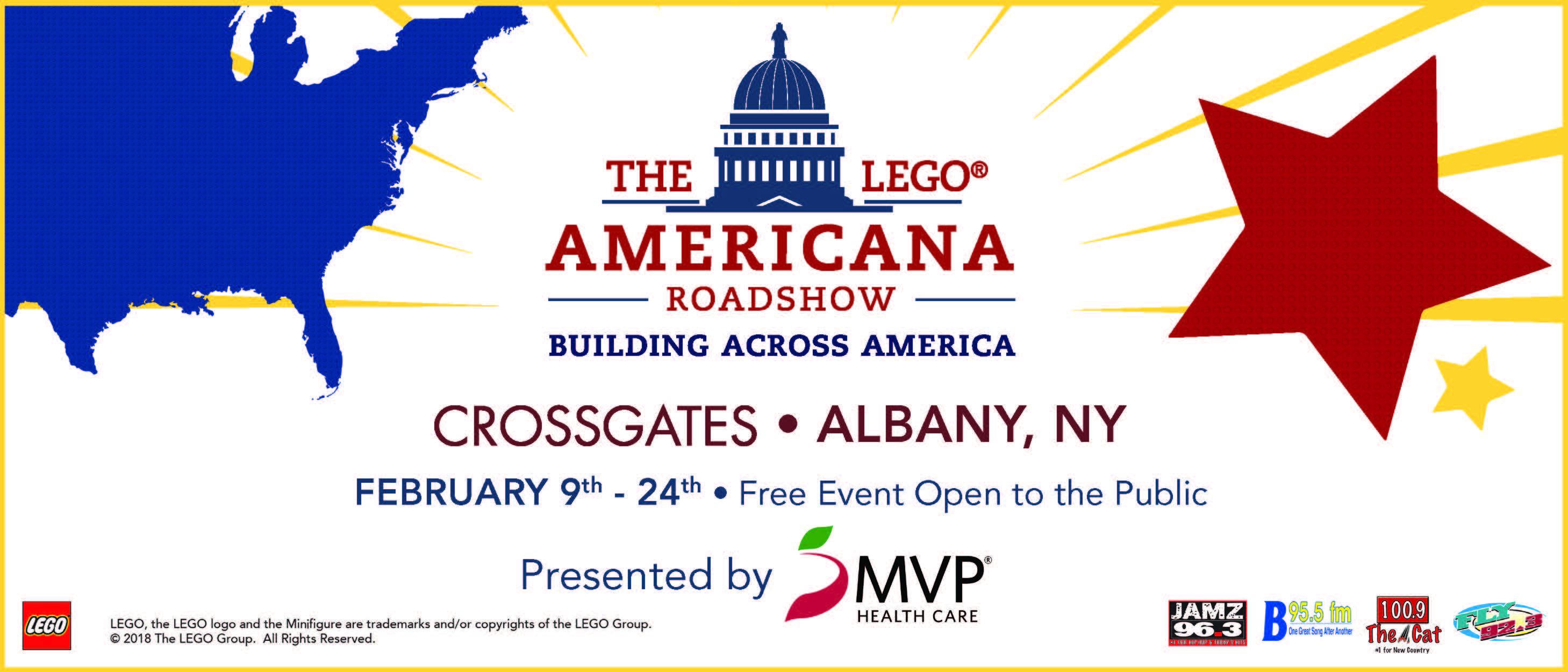 Some of America's most famous landmarks are temporarily moving to Crossgates – or at least, their LEGO® replicas are.  The LEGO® Americana Roadshow, presented by MVP Health Care, is a free traveling roadshow stopping at Crossgates on February 9-24, 2019, marking its first Upstate New York appearance for the 17-day interactive exhibit.
The all-ages event will be open to the public, taking place throughout the upper level and lower level of the mall, with a LEGO® Play Area, from 10:00 a.m. – 9:30 p.m. on Monday through Saturday and 11:00 a.m. – 6:00 p.m. on Sundays.  Anchoring the festivities are ten large-scale replicas of iconic American buildings, including The White House, U.S. Capitol, The Statue of Liberty, The Liberty Bell, and The Lincoln Memorial.
Additional show activities include:
LEGO® Brickscapes will be placed throughout Crossgates and will feature an intricate level of detail and creativity in these six themed landscapes, such as Mount Rushmore and Duplo Castle. A Brickscape will also be placed in the lobby of the Tru & Homewood Suites by Hilton at Crossgates.  Stop by to check it out and receive a Statue of Liberty kit (*while supplies last).
A LEGO® Play Area, presented by MVP Health Care, where people of all ages can build whatever their heart desires located on the lower level near Lord & Taylor.
An activity that guests can follow along with to visit each landmark, answer questions about the exhibits and receive a free LEGO® Americana collective card pack when turned into the LEGO® Store (*while supplies last), lower level across from H&M.
"We are bringing a piece of Americana to Crossgates – except these are built by LEGO® Master Creators over thousands of hours using over half a million standard LEGO® bricks," says Michael Gately, General Manager of Crossgates. "The show is a fun way for families to learn about and admire our country's landmarks, while also getting to roll up their sleeves and make their own creations."
"MVP Health Care is proud to sponsor The LEGO® Americana Roadshow as it makes its first visit to the Capital Region. MVP will be at Crossgates each day of the roadshow with contests, giveaways, and much more. We're happy to be a part of this fun experience for families," said Ted Herman, MVP's senior leader of marketing and communications.
In addition, families with special needs can experience the LEGO® Americana Roadshow, on the lower level by Lord & Taylor both Wednesdays before it opens to the public from 9am-10am.  This compassionate, sensory-friendly event allows families and their children with all spectrums of special needs to experience this LEGO® event in a comforting environment prior to mall hours.
Thank you to our media partners- Fly 92.3, B95.5, Jamz 96.3 and 100.9 The Cat
STAY at the Homewood Suites by Hilton at Crossgates during the roadshow to receive special offers and savings from our tenants PLUS a Lewis the Duck commemorative LEGO® set.