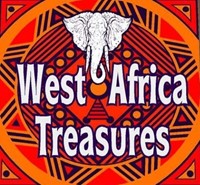 WEST AFRICA TREASURES OPENS THEIR NEW FASHION SHOP AT CROSSGATES
— Bringing a second West African Art & Crafts shop to Crossgates and the Capital Region — 
Guilderland, NY – Crossgates, which has been home to a unique arts & crafts store, West Africa Treasures since 2021, has now welcomed a second location here at the center. The new shop, West Africa Treasures "Too", features the latest in West African fashion and accessories for women, men and children and just recently opened on April 15, 2022.
Founded in 2019, owner Hotalou "Justine" Goldberg started sharing West African values and cultural authenticity through the merchandise of its many talented people. Her items are purchased directly from the artists, craftspeople, seamstresses and tailors. Justine travels throughout West Africa several times a year to personally select items known for their craftsmanship, artistic value, and uniqueness.
"We currently work with many talented men and women artisans from Togo, Benin, Ghana, Burkina Faso and Mali," says owner, Justine Goldberg. "The United Nations lists 16 countries that define Western Africa, and our ultimate goal is to incorporate art and crafts, and now fashion from as many of these countries as possible."
Born and raised in Togo, West Africa, Justine immigrated to the United States in 2002. As is the case with so many other adult immigrants, Justine was seeking opportunities not available to a young woman in her home country. She was able to find employment as a Medical Assistant, while completing her bachelor's degree at night, and went on to graduate with her HR Management MBA in 2017.
Struggling to find a career in the greater Albany area, Justine decided to pursue her own business, West Africa Treasures, in 2019. The company began as an online store with plans to exhibit at outdoor markets and craft fairs. These plans were quickly interrupted by the restrictions put in place to battle the pandemic. West Africa Treasures was finally able to exhibit in the fall of 2020. Receiving an overwhelmingly positive response from the public led Justine to her current opportunity of opening a first permanent retail location at Crossgates, and now a second shop here.
West Africa Treasures opened last year on March 6, 2021 offering an array of handmade, one-of-a-kind items such as jewelry, bags, instruments, and home decor. The wood carved, leather stretched Djembe drums, handwoven baskets, and ever-popular Mancala game are just a few reasons to visit the store, located on the lower level across from Apple. A full list of items can be found HERE.
Justine hand selects the cloth patterns at the Grand Marche in Lome, Togo, then has her tailors and seamstresses sew her designs in sizes and styles for the whole family. The shop also features footwear from Ghana, and accessories from many countries throughout West Africa.
West Africa Treasures "Too" is located on the upper level between Forever 21 and lululemon. For more information on Crossgates shops, restaurants & entertainment venues, please visit ShopCrossgates.com or follow us on Facebook.
CONTACT: 
Justine Goldberg
Owner, West Africa Treasures
(917) 547-6068