FOR IMMEDIATE RELEASE
November 23, 2022
Northern Rivers Family of Services recipients of the
FREE Crossgates Holiday Advertising Campaign, courtesy of CDTA
GUILDERLAND, NY – 'Tis the season for giving here at Crossgates, and we are proud to announce that the Northern Rivers Family of Services are the recipients of FREE in-mall advertising this holiday season, courtesy of CDTA!
While so many local small businesses & non-profit organizations entered to win a FREE sky banner space in the center now through December 26th, only one winner could be chosen. Crossgates Marketing Director, Jen Smith, said, "Simply put, this was a very hard decision. The Capital Region is full of blooming and thriving small businesses, non-profits, and talent. While we wish we could showcase all of them, we are very excited that the Northern Rivers Family of Services mission will be so prominently displayed here at Crossgates throughout the holiday season to the millions of guests that will visit us."
"The Northern Rivers foster care team is thrilled to have been selected, and we are incredibly appreciative to CDTA and Crossgates Mall for making it all happen. We work every day to find loving homes for foster children throughout the Capital Region and beyond, and the need for those homes is greater now than ever. We're hoping shoppers see this ad and are motivated to reach out to our homefinders to learn how we can support and empower them to change a child's life in their own community." said William T. Gettman, Jr., CEO, Northern Rivers Family of Services.
"CDTA is proud to partner with Crossgates on this Holiday Giveaway," said Jon Scherzer, CDTA's Director of Business Development. "The banner donation is a perfect way to kick off the giving season and congratulations to Northern Rivers Family Services. They provide life changing care and bring new families together, which is something everyone can support, especially during the Holidays."
For more information on Crossgates shops, restaurants & entertainment venues, please visit ShopCrossgates.com or follow us on Facebook & Instagram.
**Pictured from left to right: William T. Gettman, Jr., CEO, Northern Rivers Family of Services and Jon Scherzer, CDTA's Director of Business Development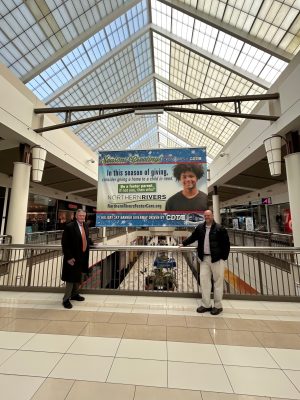 #                      #                      #
About Crossgates:
Crossgates is the Capital Region's premier shopping, dining and entertainment destination offering an impressive selection of national brands and the newest retail concepts.  The center is anchored by Macy's, JCPenney, Dick's Sporting Goods, and Best Buy, while offering more than 180 retail shops, including Apple.  Crossgates offers 10 entertainment venues and over 20 on-site eateries, such as Dave & Buster's, Get Air, Billy Beez, Apex Entertainment, The Standard Restaurant & Lounge, Maggie McFly's and Regal Cinemas with IMAX, or simply relax at our award-winning day spa, Spa Mirbeau. Located adjacent to a dual-branded 192-room Homewood Suites and Tru by Hilton hotel Crossgates is your destination to EAT. SHOP. PLAY.  Additional information regarding Crossgates can be found at shopcrossgates.com, Facebook, Instagram, and Twitter.
About Pyramid Management Group, LLC:
Pyramid Management Group, owner of Crossgates, is one of the largest, most innovative, privately-held real estate developers in the northeast. Headquartered in Syracuse, New York, Pyramid's portfolio of dynamic shopping, dining and entertainment destinations and expanding hospitality presence dominate the northeast with 14 properties located throughout New York and Massachusetts. For nearly 50 years, Pyramid has built its reputation on being first, fast, ahead of the curve and always what's next, leading the industry in combining the best elements of traditional retail with world-class dining and entertainment, all under one roof. For more information, visit www.pyramidmg.com.