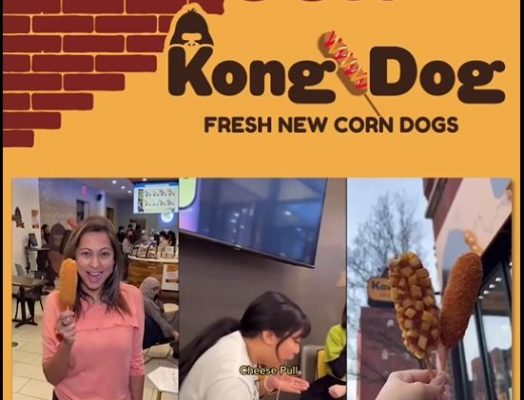 FOR IMMEDIATE RELEASE
April 29, 2022
KONG DOG, A NEW BRAND OF CORN DOGS, NOW OPEN AT CROSSGATES
— Bringing their first location to New York —
Guilderland, NY – Crossgates is excited to welcome the very first Kong Dog location to New York. Known to the TikTok'ers of the world as the "New Bite to Grab!", Kong Dog has made its way into the hearts of foodies from all over!
Trendy, delicious and handmade, this brand of corn dog and the unique and flavorful toppings make for a delicious and fun experience! To start, choose from fillings such as a traditional all beef hot dog to a half beef/half mozz filling or go for a full mozzarella cheese filling. Then coat it with hot cheeto crumbs or ramen crumbles or even crunchy fruity rice puffs. Top it off with a Strawberry Matcha Boba and your meal is complete!
For more information, visit Kong Dog at www.kongdog.us and follow Kong Dog on Instagram @kongdogus & TikTok @kongdogus.
For more information on Crossgates shops, restaurants & entertainment venues, please visit ShopCrossgates.com or follow us on Facebook.
# # #
About Crossgates:
Crossgates is the Capital Region's premier shopping, dining and entertainment destination offering an impressive selection of national brands and the newest retail concepts.  The center is anchored by Macy's, JCPenney, Dick's Sporting Goods, and Best Buy, while offering more than 180 retail shops, including Apple.  Crossgates offers 10 entertainment venues and over 20 on-site eateries, such as Dave & Buster's, Get Air, Billy Beez, Apex Entertainment, The Standard Restaurant & Lounge, Maggie McFly's and Regal Cinemas with IMAX, or simply relax at our award-winning day spa, Spa Mirbeau. Combined with a dual-branded 192-room Homewood Suites and Tru by Hilton, Crossgates is your destination to EAT. SHOP. PLAY. STAY.  Additional information regarding Crossgates can be found at shopcrossgates.com, Facebook, Instagram, and Twitter.
About Pyramid Management Group, LLC:
Pyramid Management Group, owner of Crossgates, is one of the largest, most innovative, privately-held real estate developers in the northeast. Headquartered in Syracuse, New York, Pyramid's portfolio of dynamic shopping, dining and entertainment destinations and expanding hospitality presence dominate the northeast with 14 properties located throughout New York and Massachusetts. For nearly 50 years, Pyramid has built its reputation on being first, fast, ahead of the curve and always what's next, leading the industry in combining the best elements of traditional retail with world-class dining and entertainment, all under one roof. For more information, visit www.pyramidmg.com.