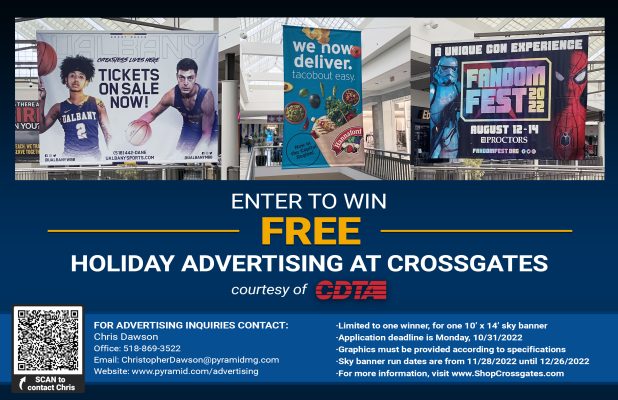 'Tis the season for giving here at Crossgates, and we want to help promote your business or non-profit by giving away FREE in-mall advertising, courtesy of CDTA! Tell Crossgates and CDTA why your small business or non-profit organization should win a FREE skybanner space in the center from November 28th through December 26th that will be seen by the millions of guests that visit us.
Simply show us what your business or non-profit is all about by sending us your mission statement, a fun story about how your business came to be or simply why you love what your business or organization stands for. To enter to win, your company or organization must provide the following:
Submit contact name and role within your company/organization
Provide a link to your website/social pages
Include any information as to why your company should win the additional ad efforts, along with anything else you would want us to know!
Please email all information to [email protected] with the subject line "Crossgates & CDTA" no later than Wednesday, November 2nd. **A winner will be randomly selected by November 4th, 2022. Winners must be able to provide a logo and/or a graphic that meets the spec requirements for the banner.