Mall Information
Crossgates Mall is easy to reach from all directions.

From the NORTH Take I-87 South to Crossgates Mall Road Exit. (1 exit south of I-90)

From the SOUTH Take I-87 North to Exit 24, go through toll booth, take Crossgates Mall Road Exit. (Route 20/Western Avenue)

From the EAST Take I-90 West to Exit 1S (Route 20/Western Avenue) to Crossgates Mall Road Exit.

From the WEST Take I-90 East to Exit 24, go through toll booth, Take Crossgates Mall Road Exit. (Rt.20/Western Avenue)
Welcome to Crossgates Mall
Welcome to Crossgates Mall, the Capital Region's premier shopping, dining, and entertainment destination. At Crossgates Mall you'll find an impressive selection of retail stores, services and restaurants to make your shopping experience a truly exceptional one!
Location
Crossgates Mall is strategically located at the junction of I-87 and I-90, the busiest section of the New York State Thruway. Situated in the vibrant Capital Region surrounding Albany, the mall draws visitors from a wide radius including Central New York, the North Country, Western Massachusetts and the Hudson Valley region.
Mall Walking
Walking has quickly become America's most popular form of exercise because it is safe, simple and inexpensive. Almost anyone can walk, regardless of age, lifestyle or physical condition. A regular program of brisk walking is beneficial in preventing or managing health problems.
Join your friends and neighbors at Crossgates Mall for healthful walking at your own pace in climate controlled comfort.
Exercise by walking a measured course of almost 1/2 mile from JCPenney to Macy's (measured on the lower level) before stores open (5am - 10am Monday through Saturday; 7am - 11am Sunday) and at your convenience. You can increase your fitness in the company of your friends.
Mall Policies: Crossgates Mall Code of Conduct
Pyramid Management Group
Behavior Code
In order to provide an enjoyable shopping environment, and for the safety and convenience of our shoppers, visitors and employees, the following Behavior Code will be in effect at all times for all guests and visitors of the shopping center. Anyone who violates the behavior code may be banned from the property and/or prosecuted to the fullest extent of the law. Mall management has the right to amend the behavior code at any time.
Download our Behavior Code (PDF)
Crossgates Mall is Open for the Purpose of Shopping
Appropriate behavior is required at all times. Fighting, horseplay, harassment, offensive language, shouting, loud noise, littering, solicitation, or any illegal activities are not allowed on mall property. Mall management has the right to prohibit groups from congregating or walking in a manner that obstructs or hinders shoppers or mall visitors.
Safe and Convenient Shopping
Pets are not allowed on the premises except for service animals that aid the physically challenged. Exceptions may be made for pets being taken to pet stores or photography sessions.
Please Walk
For your safety and the safety of our customers you may not run, skate or use a skateboard on mall property. You may not ride bicycles on sidewalks or in the interior of the mall.
Please Dress Appropriately
To promote the shopping center atmosphere, customers, guests and employees shall be fully clothed. The wearing of apparel which is likely to provoke a disturbance or embroil other groups or the general public in open conflict is prohibited.
No Weapons Allowed
The possession of any weapon, unless authorized by local, state, or federal statue, is prohibited.
Smoking and Alcohol
Crossgates Mall is a smoke free facility. The consumption of alcohol is permitted in licensed premises only.
Parking is for Guests and Visitors
The parking area is private property and is intended for the use of mall guests, visitors and employees. Vehicles must be parked in legal designated spaces. Violators are subject to tickets and/or towing. Unauthorized overnight parking is not permitted and is also subject to towing.
We Support Education
In accordance with school attendance laws, and in support of education, children of 6 to 16 years of age are not permitted on mall property during school hours, unless accompanied by a parent or legal guardian.
Parental Escort Policy
Crossgates Mall has instituted a Parental Escort Policy on Fridays and Saturdays between the hours of 4pm and closing. Anyone under the age of 18 visiting Crossgates Mall must be accompanied by a parent or guardian 21 years of age or older. One parent or guardian (21 years of age or older) is permitted to supervise up to five teens. Teens must remain within the company of their parent or guardian. Acceptable proof of age is a driver's license, state/provincial non-driver ID, military or college ID, passport or visa. This policy does not apply to the cinemas or stores with exterior entrances. Thank you for your cooperation.
Have a pleasant shopping experience!
ADA accessible entrances are identified below and ample parking is available throughout the site. Thank you for shopping at Crossgates Mall.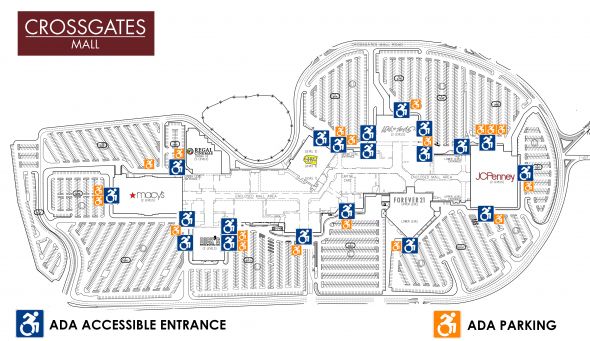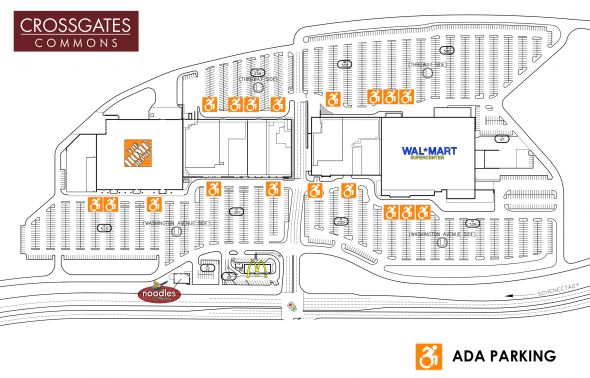 Handicap Accessible restrooms can be found here: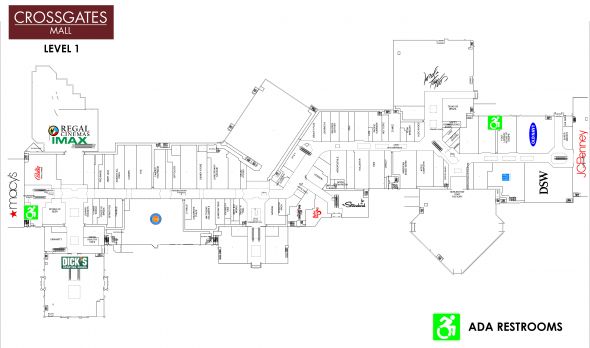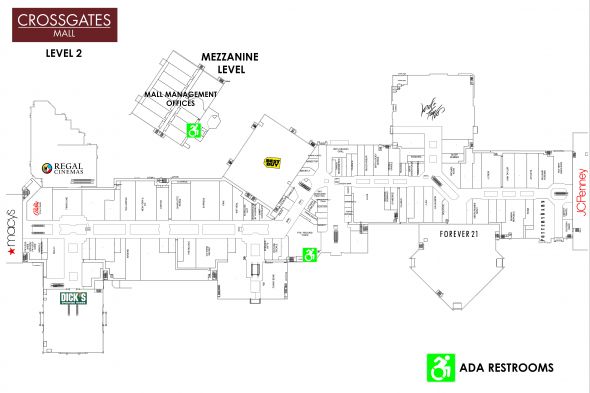 In addition, please visit our anchor stores for family style and handicap accessible restrooms.
Printable ADA Accessibility Map (PDF)
Mall Information
Hours
Mon-Sat | 10am - 9:30pm
Sunday | 11am - 6pm